In La Posada del Angel we offer rooms per night, including breakfast.  If you like to stay longer, you can also choose to stay in a private house.
Those houses have different rooms, a kitchen, terraces and mostly a private swimmingpool.  During your stay, you can use the facilities of the hotel and ask for al kinds of information about the neighbourhood.
The houses are rented per week and are situated in Ojén. Just around the corner or "in the campo" of Ojén.
Casas Rurales
Three village houses are situated in the center of Ojén.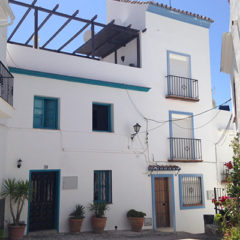 Casa Charcas
A holiday home for 2 - 6 people in Ojén
This beautiful village house with roof terrace, at about 4 minutes walk from the hotel, has 2 bedrooms with ensuite bathroom.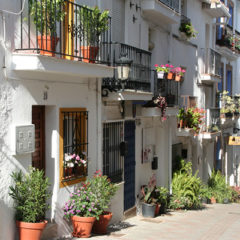 Casa Fuente
A holiday home for 2 - 4 people in Ojén
Casa Fuente is a very complete village house in the center of the white village Ojen.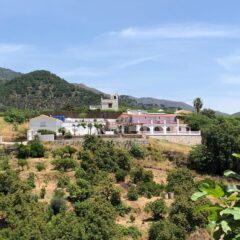 Finca Cielo y Tierra
A holiday home for 2 - 10 people in the campo of Ojén
A beautiful country house with guesthouse and private swimming pool. Amazing views of the sea, mountains and the white houses of Ojén.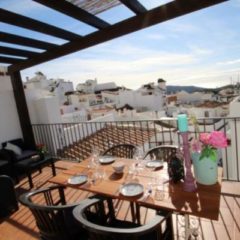 Casa Amaya
A holiday home for 2 - 6 people in Ojén
Casa Amaya is a village house next to the hotel and the Plaza of Ojén, with a cosy roof terrace.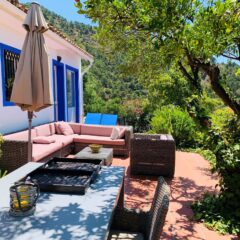 Finca for rent in Ojén
A holiday home for 2 - 8 people in Ojén
8 Minutes walk from La Posada del Ángel, just outside Ojén is Finca Santa Ana with its beautiful sea views. This charming country house has three bedrooms, three bathrooms, a kitchen and a living room. Surrounded by terraces, a garden and a swimming pool.
Other houses for rent in Ojén and Marbella, close to Puerto Banus
We also rent the houses from our neighbours in Ojén and from friends living in Marbella, when they are asking us to take care off the house and to rent it when they are not there.  Ask what we have available
The village of Ojén is situated very close to Marbella (10 minutes) and Puerto Banus (20 minutes). So you can enjoy the easy spanish village life and visit the more busy coast side.
The "La Mairena" district, where houses are rented via AirBnB, also belongs to Ojén, but is a 30-minute drive from the old village center, into the mountains. The shortcut through the mountains is only accessible with a 4×4.
NEW in 2022: Finca Cielo y Tierra
Gorgeous view over Ojén from your own private Finca
Beautiful new finca that we are renovating now, just 10 minutes away from te Ojen centre. A place where you can relax, swim in your swimmingpool and really feel the sensation of being on a holiday.
You can stay with a maximum of 10 people, including children.