Tapas Mixtas
***
Crepe with duck confit, avocado and hoisin sauce with orange
***
Tuna with fresh herbs, green vegetables and wasabi foam 
***
Tiramisu ¨dulce de leche¨, caramel liqueur and figs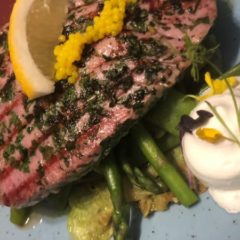 Cooking with Spanish products
Since the arrival of co-owner and cook Alex Leenen, former chef of restaurant 't Veerhuys in the Netherlands, you will be treated with culinary delights.
The village typifies itself with delicious tapas on the square. Although a restaurant with a more modern and international kitchen was still missing.
With the last reformation of the lobby which is connected to the patio now, we have more space for tables to dine on. Also in the morning we got the possibility  to serve a delicious breakfast buffet.
From this year on we serve dinners a few times per week, depending on the occupation. This varies from a daily special to a 3-course menu.
During summer, when the nights are warm enough to have dinner outside, we organize a special paella night. In a very big pan we prepare a Paella Valenciana, made from rice, vegetables, chicken and fish. We start with a tortilla española and Crema catalana to finish. Sangria and other drinks are inclusive.
Every week the menu is written on the notice board close to the entrance. People can make a reservation in the morning.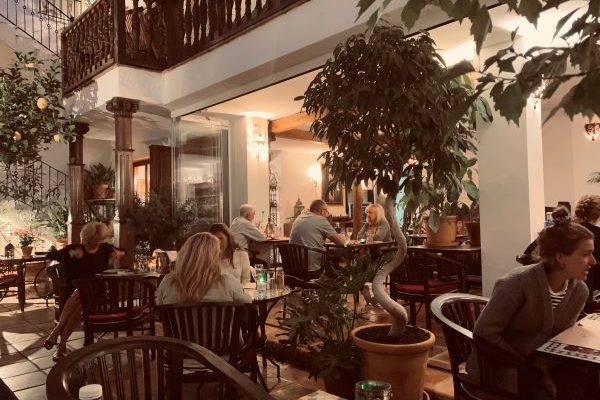 BREAKFAST BUFFET
Coffee, tea, chocolate, orange juice
***
Various types of bread, toast, homemade cakes en jams, fresh fruits, homemade  yoghurt, various cereals, cheese and Spanish ham, butter, oil and tomatoes
***
Eggs and a daily specialty
Paella Night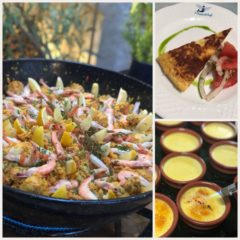 Tortilla-Paella Mixta-Crema Catalana
Diner Menu
***
Tapas Mixtas
***
Filet of redfish, served with mint tabbouleh and orange sauce
***
Pork tenderloin with Pedro Ximenos sauce, almonds and raisins
***
Trifle of nectarine
Menu del día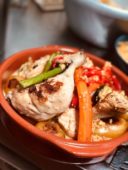 Pollo Ajillo, chicken in garlic and white wine, served with vegetables and potatoes