Costa del Sol - Costa del Golf
This neighbourhood is also called The Costa del Golf. There are 30 beautiful courses within a half hour drive and 20 additional ones a little bit further. From parkland courses to the most challenging mountain courses. Almost all of them are nice but the choice of a course depends on your  expectations. Which courses are you going to choose?
Are you going to take a challenge and enjoy the beautiful landscape around or are you going just for the score? In some courses is difficult to score , especially when it is you first time playing and you don't know it. If you are a beginner then many courses may be too difficult for you. So here there are some tips: Although a certain handicap is required everywhere ,  we never had to show it. It was enough just to show our credit card. Have a look in the magazine Golf Guide for descriptions.
The Seasons
During high season, the prices of green fees are considerably higher than in low season. The seasons run from March to mid-May and from October to mid-November.  In many courses the prices depend on the height and the flow and if you need a buggy or not (which is sometimes  included in the price).
From June to mid-September and in the period between December and  January, there are often attractive offers . You can see all of them at www.costadelsolgolfnews.com. We recommend that you do take a buggy during this period because of the heat , but this is usually included. Meanwhile, a number of opportunities to play can be found at attractive rates, even in high season.
Golf courses:
Which golf course to play?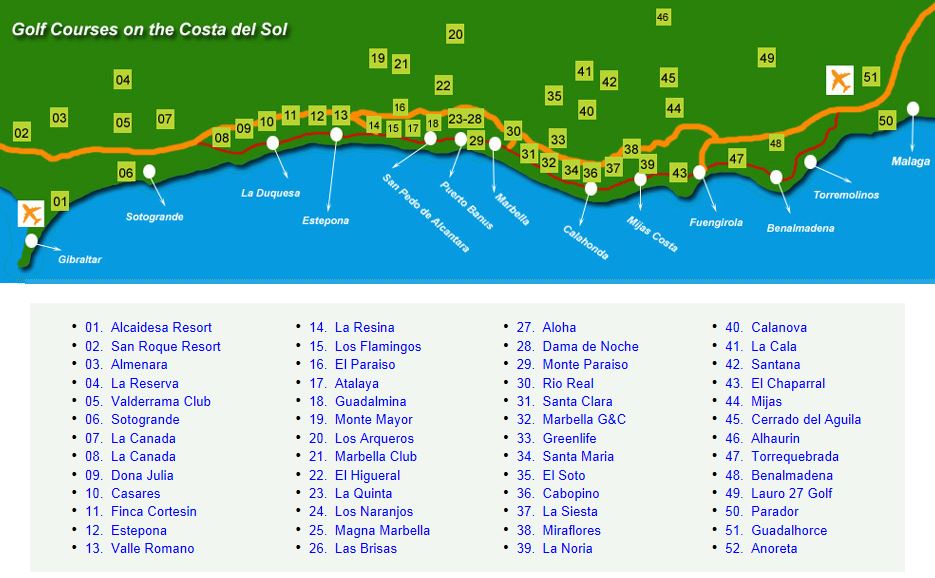 Because this area offers a lot of courses, it's difficult to make a choice where to play. Do you like to play a mountainous or a parkland course? Do you prefer to walk or to take a buggy? Do you really need to play as good as  your handicap suggests or do you prefer a course where you can practice when you just started. We like to make your choice a little bit more easy.