Los Pueblos Blancos of Andalusia
The White Villages
The White Villages of Andalusia (in Spanish, they are called 'Los Pueblos Blancos') are located mainly in the provinces of Cadiz and Malaga.
The Moors ruled from the 8th to the 15th century over big parts of Spain.
But when Spaniards wanted their country back in the thirteenth century, they began the Reconquista (reconquest), and many Moorish farmers went to the mountains and built the white houses with thick walls, small windows and round chimneys that nowadays are very admired.
'Pueblos Blancos': car traveling through Andalusia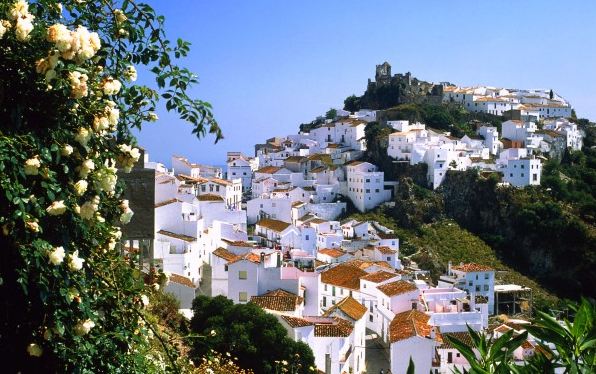 A new spring, a new layer of paint
The villages are now cherished by the current owners, and every Spring they repaint the houses. The thick walls provide a good insulation and the small windows prevent from the excessive sunlight. In this way, it is a pleasure to live in this white houses. Both in Summer and Winter.
During the Reconquista, the 'Pueblos Blancos' also served as a fortress and in virtually every village you will find a castle with its thick and strong walls. From their high position in the mountains, the villages were able to be defended from the enemies very well for a long time. When all of the Moors were expelled from Andalusia, the White Villages remained uninhabited for a long time and were later repopulated by Spanish farmers.
Much has been preserved from the Moorish times. If you go through the streets, you will notice all of the Moors' legacy. Everything in the architecture reminds you of those days. Besides, the Pueblos Blancos offer you the possibility to make many activities and car journeys that lead you through many of these villages and natural parks.
Grazalema, Arcos de la Frontera and Ronda
The most famous Pueblos Blancos are: Grazalema, Arcos de la Frontera and the beautiful Ronda.
During the afternoon, the hills of Andalusia offer great opportunities for memorable car rides and cycling. Petroglyphs, Moorish villages and Roman structures here are the cultural heritage.  You can also find countless olive trees, holm oaks, cork oaks and citrus trees along your way.
It is very recommended to visit the beautiful city of Ronda, one of the finest areas of Spain and one of the most stunning views of the Sierra de Grazalema. This nature can be explore on foot or by bike. On the other hand, the White Villages of Benaocaz and Zahara still breathe typical Moorish atmosphere.
Near Ojen, there are several white villages that are well worth a visit, for example Istan or Tolox. Other towns that can be visited are Casares, Gaucin, Castellar de la Frontera and Mijas, which is a  very nice place to have lunch.