Hiking around Ojén
Ojén is one of the White Villages of the Sierra de las Nieves where you can discover the wilderness. With wonderful walks, this is an ideal destination for those who want to combine the beach and the sun with beautiful trips through the hinterland. Since the mountains rise directly from the Costa del Sol, they offer an impressive sight from the summit. In all of the rugged and hilly terrain, there is only a small part cultivated in which nature can be admired with all of its unspoilt beauty.
The best walking period is obviously Spring or Fall, when temperatures are still somewhat bearable. During Summer months, when the mercury marks above 30°C,  difficult mountain hikes are not very recommended.
The hotel offers descriptions to find the right directions.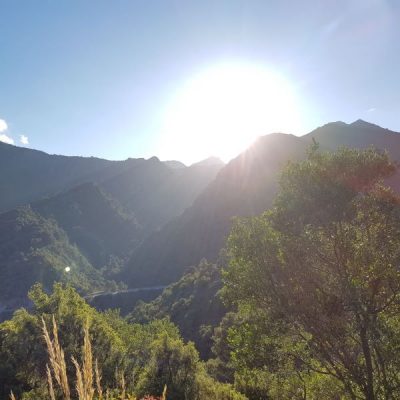 Hikes from the village of Ojén
Round from ojen to el cerezal (2 hours)
A walk that is easy to do is the one that goes from Ojén to the El Cerezal park. And then, going back through the village up to the Plaza de Andalucia. There are plenty of opportunities to stop and have a delicious lunch.
The walks here are virtually unlimited. The white villages of Istan and Ojén are an ideal starting place for day trips. Many walks are marked but sometimes they cannot be found. Therefore, it is convenient to make difficult walks using the GPS.
The GPS is gaining a lot of popularity in recent days, mainly because of the many other outdoor activities that you can undertake with its help, such as Geocaching. In the Sierra de las Nieves, it is a good and nice challenge to do some walking, especially for kids, who will find many funny things to do.
From Ojén along the Rio Real to Charco de las Viñas (2 hours)
This is a walk that runs along the river Rio Real and goes to the other side of the valley back to a small lake. Halfway there is a place where you can climb and, at the end, you can swim.
From Ojén along the Rio Real down to Marbella beach
This is a walk that runs through the campo and along the river Rio Real and goes all the way down to Marbella where you can have lunch in a chiringuito on the beach.
Walks from Juanar (Ojén mountains)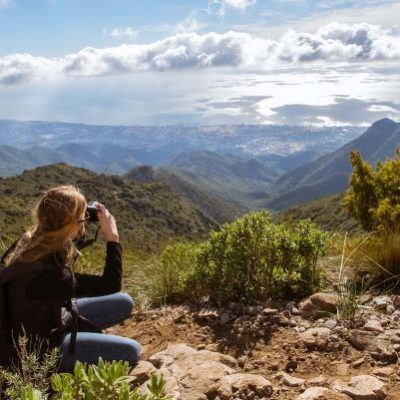 Many walks start at Refugio de Juanar, both short and long ones. You can get there from the village in about 10 minutes by car.
Hike to Mirador Marbella (1½ hour round trip)
A wonderful short and easy walk that leads to a mirador (viewpoint) from which you can see the whole city of Marbella. Easy with kids as well.
Roundtrip El Cruz de Juanar (2 1/2 hours)
A wonderful walk up the mountain to Cruz de Juanar, From here there are nice views to the Mediterranean and Marbella.
Roundtrip El Pozuolo (3 hours)
This trail offers  a beautiful view to the snowy peaks of the Sierra Nevada in Spring (when it is clear). There are flowers everywhere, raptors flying sometimes and, if you are lucky, you can also find the cabra montes (mountain goats) on the slopes.
Climbing the Concha (1215 m), the highest mountain in Marbella. (5 hours round trip)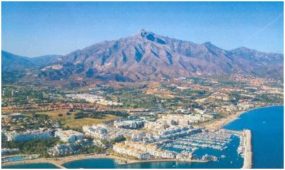 To do this trip, it is recommended to wait for a nice, not too hot day with clear weather or to start very early in the morning. This tour is intense and climbs to 1200 meters. But efforts will be rewarded with stunning views of the Mediterranean Sea, Gibraltar, Morocco and Sierra Nevada. Heavy and steep with chains on the most difficult part.
Walks along the beach
Information about walking along the beach, you will find at another page.
For those who do not know it, here there is a small explanation: Geocaching is all about finding one or more geocaches (hidden treasures), which are often in a route that leads to the last cache. The final cache usually consists of a box containing a small notebook in which the cacher can write his named down as a proof that he has actually found it. There is a GPS device in order to find the different coordinates where the cache is hidden. There are all kinds of geocaches, ranging from easy things to intricate puzzles. Following the hints, it is easy to have it solved.  Anyway, they all have one thing in common: they take you to the most beautiful and special places.
Download de Geocoaching App. There are 624 geocaches around Marbella.