Canyoning and climbing in Marbella area
The Sierra de las Nieves includes several climbing rocks, caves and many beautiful gorges.
Aventúrate Sierra de las Nieves and Sierraventura Ronda are two Outdoor companies that organize different activities in the Sierra de las Nieves, the mountain area behind La Posada del Angel. The experienced guides speak Spanish and English and live in the area, so they always know where to find the nice places.
Aventúrate specializes in canyoning, speleology and hiking. Sierraventura specializes in climbing and canyoning. But both have an extensive range of other activities. Can be booked from 2 people. On Facebook they sometimes offer a day program in which you can participate, which considerably reduces costs.
Canyoning
While climbing and descending through the canyons (gaps between the rocks) you will learn how to use different techniques in other outdoor activities such as walking, sliding, climbing, jumping, abseiling and swimming.
Speleology
Discover caves by descending into the inside of the earth. You can see the rock formations and the different animals that live here. A new sensation!
Climbing
At various places in the Sierra, there are rocks that are suitable for learning to climb. Aventúrate ensures the right equipment and experienced guides. And, of course, there are also several options for more advanced climbers. La Posada del Angel offers some walking trails along the river near Ojen, specially suitable for the warm months. Aventúrate offers daytime activities throughout the year, including the equipment.
The climbing area of El Chorro Climbing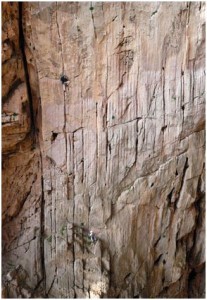 Situated only 50Km inland from Malaga, the rock climbing area of El Chorro is very diverse and has something for everyone. The main focal point is the huge limestone gorge, which offers some fantastic multi-pitch rock climbing with its own unique and intimidating atmosphere.
Additionally, there are other crags that offer everything a climber could wish for; from over 650 routes with a good selection of bolted single and multi-pitch routes; excellent limestone slabs, tufas and exceptionally steep walls; most of it within walking distance of El Chorro village and available across the whole grade range. It is fair to say that El Chorro has become a classic winter climbing venue and the ideal time to visit is from October to the end of April.
Furthermore, near the climbing area, there are beautiful reservoirs which are great for spending the day for non-climbers.
Climbing for kids: Aventura Amazonia Marbella
This adventure park features 24 ziplines, distributed among a variety of different adventure circuits: an authentic and fun challenge for all ages, and the largest number of ziplines in Malaga.