Bicycle and mountainbike tours
Ojén is known in the mountain world for its beautiful tracks. Ojén is often chosen for one of the races from a circuit that takes place throughout Spain.
But you can also make bike tours on more flat terrain such as in Marbella and Malaga. You can rent a bike yourself or go with a guide.
A very surprising route is the old train track near Olvera.
City tour Marbella
The Marbella City Bike Tour is suitable if you want to get to know, not only the standard sights, but also the lesser-known secrets of Marbella. The bike tour starts on the Paseo Maritimo on the beach and takes you through the center of Marbella. In the meantime, the guide will tell you about the history and development of current Marbella.
TIP: Keep the bike  and cycle to Puerto Banus, the luxury marina, with yachts and fancy cars.
City tour Malaga
Make a bike tour through the lively, historic Malaga! Get to know Malaga´s celebrities, discover the local customs and taste the authentic tapas during a bike ride. And all from the convenience and safety of a 'top quality' bicycle, complete with a guide. You can also rent bicycles  without guide, to cycle through Málaga center and along the beach to Pedregalejo.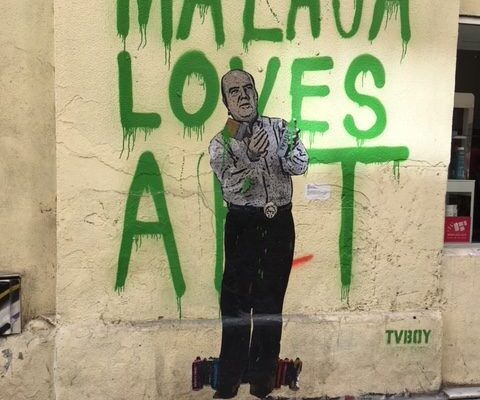 Cycling through tunnels over the old railway
VIA VERDE de la sierra
Construction of a railway line between Jerez de la Frontera and Almargen started in 1926, but the fall of the dictatorship and the subsequent economic crisis stopped work on the railway line and they never continued it. A virtue was made of necessity.
The Via Verde de la Sierra is now a beautifully laid out cycle path – which you can also use as a hiking trail – right through nature, complete with thirty tunnels (the longest of which is almost one kilometer) and four viaducts. The path counts 36 kilometers and lies between the towns of Puerte Serrano and Olvera. In both places there is a small train station with a restaurant where you can start the tour.
We advise to start in Olvera and cycle to Coripe and from there back again, a little bit up. This is the most beautifull part.  A colony of 500 griffon vultures lives near the rocks of Zaframagón. At the station of Coripe live otters in the river.
It is important to make a reservation in advance to ensure that the bicycles and return service are arranged. From Ojén it is a 1.45 hour drive to Olvera, via a beautiful route along Ronda.